Contact Us
Call Center:
+86-010-87265920
+86-372-2190222
Fax:+86-372-2190333
Mobile Phones:
+86-18608032780
+86-13213263322
E-mail:info@bid-machinery.com
Products
 
  Home>>Small Enrich Machinery>>Contents
Chop Mill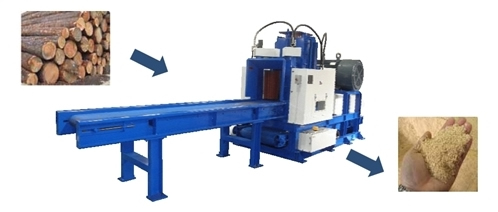 Functions and usages:
mainly use to make the saw dust directly, based on the material of the wood, is high efficient, environmental, and decrease the cost highly, so now the machine is widely used in many fields.
Main features:
1. High efficient: adopt four side compression method and high quality blade which greatly increase the working efficiency then before.
2. Simple operating: simple operating and control system and the feeding system is controlled by electricity.
3. Little cost: low maintenance cost and also has the spare knife.
4. Environmental: no pollution, no noise, no waste, and is more environmental.
5. Long lifespan: the tooth and safe blade have longer lifespan.
6. Automatic: 4WD type with high power is automatic.
The technich parameter:
| | | | | | |
| --- | --- | --- | --- | --- | --- |
| Item/Model | BCM300 | BCM350 | BCM400 | BCM500 | BCM600 |
| Power (KW) | 90 | 130 | 150 | 180 | 220 |
| Capacity (T/H) | 14-16 | 18-23 | 20-25 | 25-30 | 30-40 |
| Volume (M3/H) | 25 | 30 | 40 | 50 | 75 |
| Lenth (mm) | 3800 | 4000 | 4000 | 4500 | 5500 |
| Width (mm) | 2100 | 2200 | 2300 | 2400 | 2500 |
| Height (mm) | 1900 | 1950 | 2000 | 2100 | 2200 |
| Feeding (mm) | 300×300 | 350×350 | 400×400 | 500×450 | 500×600 |
Tag:  
chop mill
wood dust making machine
wood dust machine





 
/table>