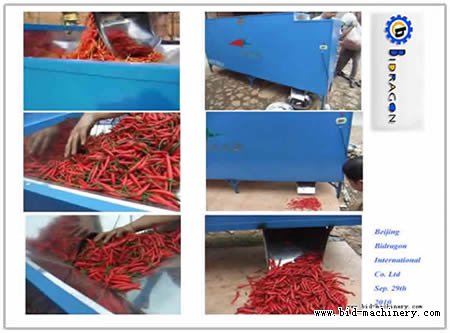 Operation Process:
Just switch on the power and put the raw chili into feed port and then you can get chili without stem from discharging port. When all the raw material in machine drum going out, the work is well done, then switch off the power. That's all, very simple but practice.
High Clean Rate: 85-95% above high clean rate. According to different types of chili /pepper such as Yidu, ChaoTian,Yunnan,millet chili/pepper, Jinta, America chili/pepper etc. even fresh chili, choose the right model to get perfect effect.
Illustration as below: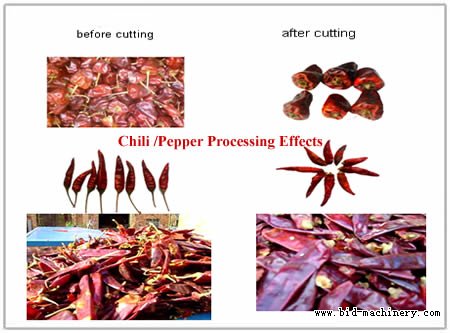 Work Theory: This machine configured with a roller drum, the surface of the drum full of small round holes, when the chili' stem falls into the hole, there is blade outside the drum will cut those stems off. (The similar working principle with SHAVER.)
The products above named as BCHS-4(5, 6, 7, and 8) Chili Machine, it is a special machine to remove red chili's stem. Chili Stem Cutting Machine is a patent chili cutting machine to cut pepper's stem. Usually, chili processing factory needs to cut chili stem manually. However, this manual way to remove chili stem has very low efficiency. Chili is hot spice with pungent smell, so it is also a hard job to remove chili stem. Chili Stem Cutting Machine resolved above problem with high efficiency and low power consumption. Also Chili Stem Cutting Machine can be used to cut Chinese anise stem and string bean stem. Chili Stem Cutting Machine is an ideal machine for chili processing factory to cut fresh chili stem or dry chili stem.
Chili processing machinery
compsoed of a complete sets of chili/pepper processing machines,like chili milling machine, chili pulverizer,etc.
That's all the description about how to processing spice, for more konwledages about food processing , please surf:
http://www.bid-machinery.com/
to acknowledge.