Contact Us
Call Center:
+86-010-87265920
+86-372-2190222
Fax:+86-372-2190333
Mobile Phones:
+86-18608032780
+86-13213263322
E-mail:info@bid-machinery.com
Products
 
  Home>>Agricultural Machinery>>Contents
BZ-3 Gravity separator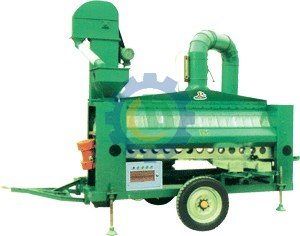 Functional description
This machine can separate different materials into different layers by adjusting air pressure and vibration rate. High gravity material will sink while low gravity material will rise. After material enters the drop area, the machine will discharge different material from different exits, achieving accuracy.
The machine is ideal for sifting grain seeds, tree seeds and cotton seeds. It can eliminate inferior grain, grain with buds, moth bitten seeds, rotten seeds, black-powder disease seeds, seed with glumes, and it also can eliminate grass seeds, sand, stones and soil block with a diameter below 2mm.
Main technical specifications
Gravity
separator

Model

BZ-3

Size (L×W×H)

4000×1850×2750 mm

Productivity

3000 Kg/h(for wheat)

Sieve size
(L×W)

2000×325 mm

Total power

4.25kw

Vibration frequency

960rpm

Amplitude

4mm

Noise

≤85dB

Clarity grade

>98%

Selection rate

>98%

Air volume of fan machine

8489m3/h

Breaking rate

<0.2%(dicotyledonous plants increased)

Features

1.Suitable for wheat, corn, cottonseed, rice and beans seeds to separate

2.Three material exits

3.Negative-pressure of rules mesa, mesa frequency adjustable

4.Completely balancing mechanism for mesa vibration, Good balance, stable and reliable, and low noise

5.Independent fully enclosed dust mask and removing crumbs device
Tag:  
gravity separator
seed processing machine
wheat seed separator





 
/table>