How to Peel Lychee -by Lychee Peeling Machine & Lychee P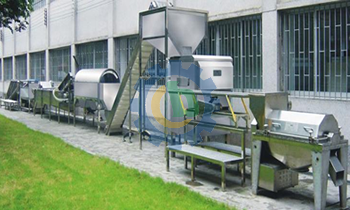 Brief Introduction
Lichee(longan) rinding, pitting and beating equipment is a good pre-treatment equipment for further processing. It has been applied widely to process lichee(longan) juice and wine.
Lichee & longan rinding, pitting, beating technology and equipments was a research project which belongs to China Spark Program and transfer of scientific and technological achievements of The Ministry of Science and Technology of China. During research period, we got patent about the equipment in year 2005, the equipment passed appraisal of scientific and technological achievements.
Processing Line Flow Chart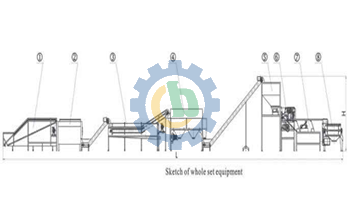 ① Sort Machine ( based on quality of lichee /longan)
② Brush Washer
③ Air Bath Washer
④ Classification Machine(based on the size of lichee/longan)
⑤ Buffer of Lichee
⑥ Rinding Machine
⑦ Separating Machine
⑧ Pitting and beating machine
Technical Parameters:
Model

XLL-3000

XLL-6000

Output(based on raw material)

3000KG/H(LICHEE)

2000KG/H(LONGAN)

6000KG/H (LICHEE)

4000KG/H(LONGAN)

Power Capacity

18kw

28KW

Dimension (L*W*H)

25000*2300*3100mm

30000*5000*3100mm

The First Working Procedure:
To gel rid of the twigs and impurities form litchi (Longan), clean rinds with water and disinfection, classify simply according to size.
Work theory:
After the first working procedure, feed 1 litchis (Longans) to hopper. Vibratory feeding launder sends 1itchis (longans) to oriented strip and rotary rubber wheel which is drive by three power rollers. Along with rotation of rotary rubber wheel, feeding wheel pushes 1 litchi (longans) to the surface of oriented strip to cut by knife fixed on knife shelf one by one.
Litchi (longan) pulp with pit would be separated form rind by separating wheel, and falls into vibratory output launder. At last, output wheel for rind takes the rind out of machine.

To Debug and Maintain
To keep the machine work well, it's necessary that check
components carefully before they work and clean machine in time
after they work.
Familiar malfunctions and checking items.
l.Bad effect of rinding
A. Bad effect of getting rid of twigs and impurities from 1itchis(longans) ;
B. Knives have been blunt or damaged ,even the knife shelf has been stopped by impurities.
2.Rinds output with some I itchis(Iongans)
A. Rize of 1 itchis(longans) is different obviously.
B. Overload.
C. Separating wheel has been damaged or work bad
3.Rinds output with much I itchi (longan) pulps
A. Output wheel for rind doesn't work or has been damaged.
B. Rotary direction of Output wheel for rind is reverse.
To Lubricate
1. axletrees: To renew lube every month, renew lube once per two weeks if machine works more then 15 hours a day.
2. chains: To clean all components with water, and then renew
lube after they work.
Easily damaged parts
1. knife: To replace all knives per 100 tons 1 itchis (longan).
2. rubber wheel: To replace all rubber wheels per 1000 tons
1litchis(longan).
Cautions!!!
1. Reverse rotation of rubber wheel is forbidden. It's correct that rotary direction of the top of rubber wheel
points to separating wheel.
2. Keep rubber wheel wet any time, so watering some water to rubber wheel before you debug without Iitchi (longan).