1ton/H Dates Processing Line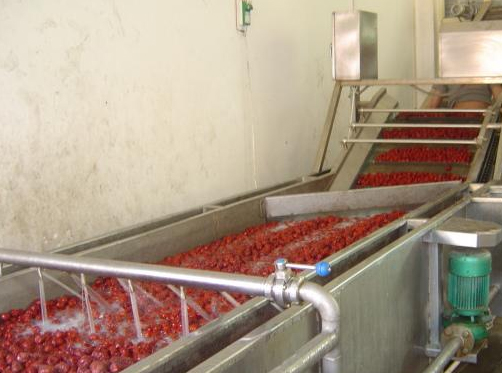 We can provide pre-process line and also deep process line of dates and palm dates. According to customers requirements and choose suitable machines.
Flow Chart:
include lifting winnowing machine---sorting machine---grading machine---spray cleaning machine---brush roller cleaning machine---air-dryer---drying machine---UV sterilization machine, etc.
Some machines general information are listed in the following.
1. Lifting winnowing machine:
(1) Lifting date's raw material to next process.
(2) For the removal of weeds, leaves, surface dust and other debris in the dates.
(3) The main body of stainless steel, unique suction system that allows the debris to row to the outside.
(4) Dimensions: 5000*850*2500mm stepless speed regulation
2. Grading Machine:
(1) Dates size classification (according to the diameter of the dates).
(2) Classification level of size and speed controllable.
(3) Dimensions: 8300×1000×1200mm
3. Spray Cleaning Machine:
(1) Mainly used for surface water removing, improve drying efficiency.
(2) Material forward in the transmission of stainless steel roll bars, transportation, materials transported forward at the same time itself is also rotating, the effect of the strong fan air-dried dates of surface water
(3) Quality stainless steel raw materials , health and safety
(4) use of natural wind and dry , not to hurt the raw materials , to ensure that the dates the primary colors.
(5) Dimensions: 6000*1070*1400mm
4. Air-dryer:
(1) Dates after the selection of conveyor go into a spray washing machine by lift, high pressure water spray cleaning dates. Dates in the forward transport process, because the roll bars around rotate constantly to ensure that the cleaning effect.
(2) Whole machine made of stainless steel and with Plexiglass protective cover, safe and healthy.
(3) With the circular tank, recycling.
(4) Dimensions: 4500*1100*1500mm
5. UV sterilization machine:
(1) Mainly used for dates sterilization after drying.
(2) Brand UV light source, the quality is stable and reliable quality
(3) Unique roll bar transmission, so that the the dates rotation no dead ends, a more thorough sterilization.
(4) With the CVT, can be adjusted according to the running speed, running more smoothly
(5) Dimensions: 7000*900*1200mm